El Shaddai Charitable Trust has been working in the field of Child Protection, Child rights and the care of children in need since 1995. Over the years, we have taken measures to ensure we give our best to the beneficiaries of our programmes – the children, their families and their communities. Over the last two decades, our high level of accountability and trustworthiness is reflected in our financial prudence.
While our books of accounts are open to public scrutiny, our projects are open too. Visitors are welcome to any of our homes and shelters. Visiting times at the homes are from 4pm to 6pm Monday to Friday. Our shelters are open through the day. We take child protection very seriously and have a child protection policy in place so please familiarise yourself with it before interacting with any child.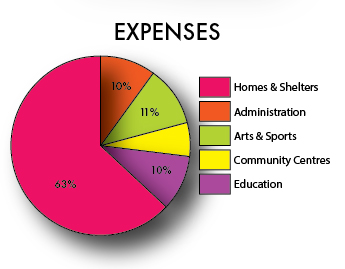 Non-profit Trust Documents for Download
Bring Childhood back to the Children
Change does not happen overnight. Our Childhood Changemakers know this. Their regular donation gives children back their childhood and young lives can have a chance at futures.
Have a comment or query? Get in touch with us:
Address: El Shaddai House Socol Vaddo, Assagao Goa-403507
Phone: +91-832-2268440/50
Charity Reg. No: 009/IV/Vol.1 80G Tax Exemption No.: CIT/PNJ/E-1/142/80G/2009-10/944
FCRA Reg. No: 271830134, 12A Reg. No.: 718/E-2/12A/CIT/PNJ/1999-2000
Note: Donations to El Shaddai Charitable Trust is eligible for 50% Tax Exemption under 80G (Indian nationals only)
UK Address: 5, Manor Court, Victoria Square, Holsworthy, Devon EX22 6AA
Phone: 01409 254876 | Email: ukoffice@childrescue.net
Reg. Charity No.1076768
A Charity you can Trust
In 2017-18 80% of all expenditure went into projects with the balance 20% going toward administrative and fundraising.
Click here to download our Annual Reports.
Accreditation: