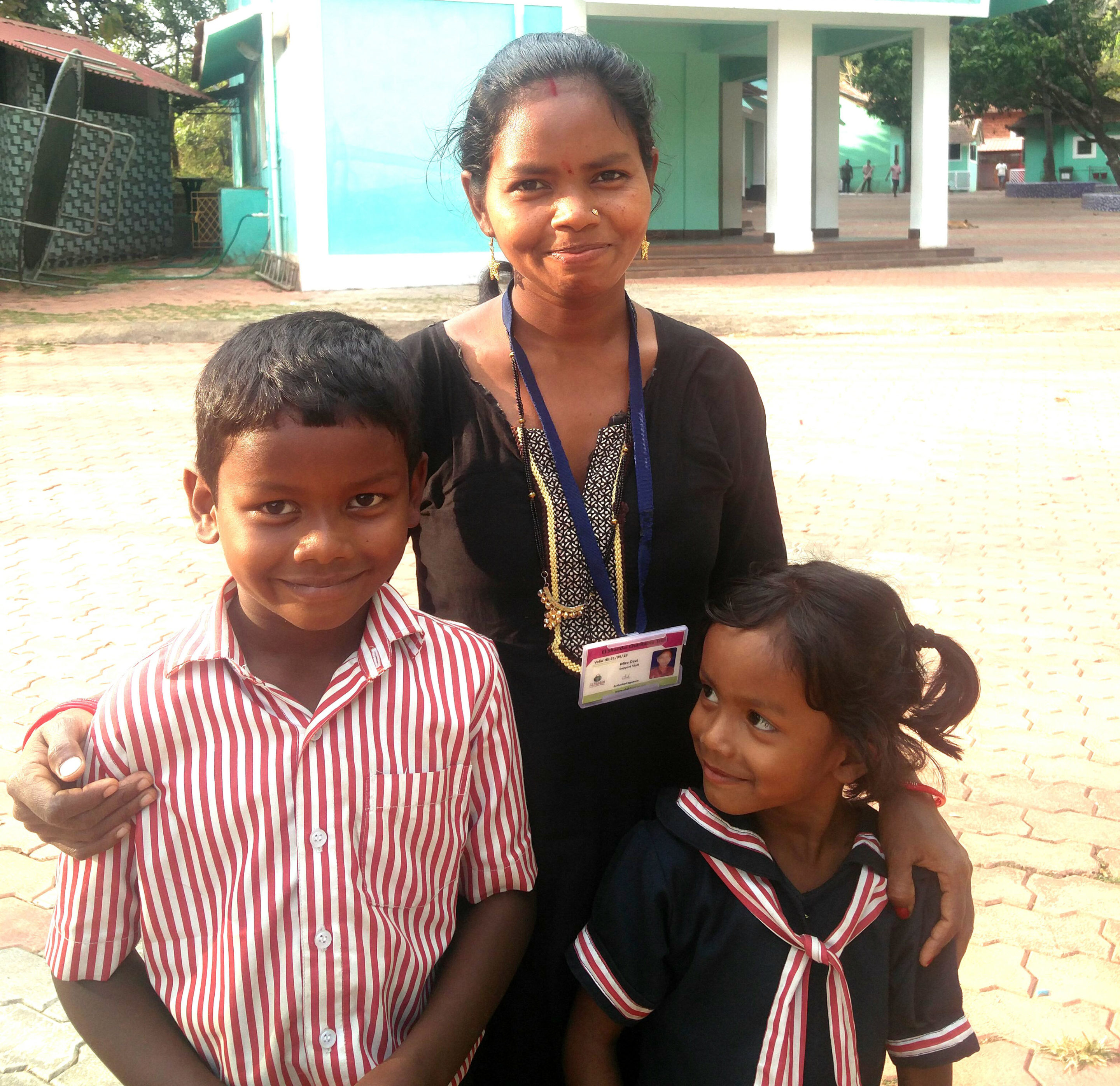 One morning, as I was passing by the El Shaddai shelter, I entered and asked if they had a vacancy. I was offered a job as a Support Staff in the Shanti Niketan School. At the time, my two children were at home and were not attending any school. I was encouraged by the El Shaddai team to admit my two children in the same school.
I come from Chhattisgarh, a very under-developed village. We have no education facilities, no financial stability and no equality. My husband and I came with our younger daughter to Goa in search of a job. My elder son remained in the village. I could not send my younger daughter to school and had admitted her in a government-run Balwadi since we both were working. After I got the job in El Shaddai I was able to get my son to Goa and admit them both in Shanti Niketan school.
As a child, I never thought of dreaming big since I was from a very poor family. Now when I see my children dressed up in uniform and going to school every day and talking and learning new things, it makes me happy. I come with them daily to school, I drop them and continue with my work and later in the evening I pick them up and go home along with them.
My husband and I can now provide basic necessities to our children. We can now live happily together because of the opportunity El Shaddai has provided for us.
– Mira Devi's story as told to Carol Crasto.
El Shaddai supports underprivileged children and their families, like Mira Devi, encouraging parents to send children to school. We believe, education is the key to break the cycle of poverty and achieve Millennium Development Goals.
We also encourage parents and children to live together as that is the best environment for a growing child. We support families to enable them to work and take care of their children in the home.
If you would like to support the work and become a part of change, please consider becoming a Childhood Changemaker.
Bring Childhood back to the Children
Change does not happen overnight. Our Childhood Changemakers know this. Their regular donation gives children back their childhood and young lives can have a chance at futures.
Become a Changemaker today.
Have a comment or query? Get in touch with us:
Address: El Shaddai House Socol Vaddo, Assagao Goa-403507
Phone: +91-832-2268440/50
Charity Reg. No: 009/IV/Vol.1 80G Tax Exemption No.: CIT/PNJ/E-1/142/80G/2009-10/944
FCRA Reg. No: 271830134, 12A Reg. No.: 718/E-2/12A/CIT/PNJ/1999-2000
Note: Donations to El Shaddai Charitable Trust is eligible for 50% Tax Exemption under 80G (Indian nationals only)
UK Address: 5, Manor Court, Victoria Square, Holsworthy, Devon EX22 6AA
Phone: 01409 254876 | Email: ukoffice@childrescue.net
Reg. Charity No.1076768
A Charity you can Trust
In 2017-18 80% of all expenditure went into projects with the balance 20% going toward administrative and fundraising.
Click here to download our Annual Reports.
Accreditation: